A crowded field of 10 candidates took to the stage Wednesday in Atlanta for a fifth Democratic presidential debate that felt a little more frenetic than previous matchups. Candidates didn't stay on topic long, and important issues like health care and criminal justice reform got far less time than in the past.
We asked some of our grantees, who rank among the nation's foremost policy experts, to watch along and give us their impressions. Here's what they had to say:

Debate Exposes A Tax Divide Among Candidates
Howard Gleckman, Senior Fellow, The Urban Institute
A few brief comments in last night's Democratic presidential debate exposed an important rift in federal tax policy. It came when Sen. Cory Booker criticized a wealth tax proposed by the party's leading progressives and, instead, promoted his own refundable tax credit for renters.
Booker's remarks highlighted the gap between Sens. Elizabeth Warren and Bernie Sanders, and everyone else aiming for the party's presidential nod.
In large part, Warren and Sanders would use tax policy to take wealth from the very richest Americans. They would target those with high incomes or substantial assets with a new wealth tax and with higher taxes on investment income, wages and salaries, and bequests. They would use the money to finance expansive new government spending programs for health care, child care, education, housing, the environment, and more.
By contrast, most of their rivals take a different path. They too would increase taxes on high-income households. But their focus is less on those taxes as a tool to confiscate wealth and more on generating new revenue for the more traditional purpose of financing policy initiatives. In other words, they see taxing the rich as a useful source of revenue, not an end to itself.
Booker and most other Democratic presidential hopefuls prefer using the tax code to provide new benefits to low and moderate-income households. Most would expand or retool the existing earned income tax credit and child tax credit. And several, like Booker, would create new credits — ideas largely ignored by Sanders and Warren.
The distinctions are subtle but important. And worth watching.
A Monumental Missed Opportunity for Criminal Justice
Nicholas Turner, President and Director, Vera Institute of Justice
In this Democratic primary season, justice reform has been a prominently and refreshingly competitive topic. Everyone has a policy platform. Think back to the Cory Booker and Joe Biden exchange over the 1994 Crime Bill on the summer debate stage. The Tulsi Gabbard zinger aimed at Kamala Harris, challenging her bona fides as a reform prosecutor. Or Julian Castro asserting the need to decriminalize the act of crossing the border without documents. And most momentously, we even had our first-ever Justice Town Hall organized by formerly incarcerated people and attended by, well, three candidates.
Conspicuously, last night, there was almost zero concrete or illuminating discussion of reforming or transforming the American criminal legal system. In fact, the candidates seemed generally happy to — at best — recite high-level talking points, and — at worst — avoid the issue entirely, or speak in platitudes.
It all began (did not begin) when Gabbard punted on answering a question about how she'd handle white supremacist violence by reminding us about the failed war on drugs. Kamala Harris noted that candidates should not ignore voters who are the backbone of the party (black women) and reminded everyone that ​"Justice is on the ballot."

Here we go, I thought, as I prepared to take notes. Economic justice. Yes. Health care. Yes. Justice for children. Yes. Justice for our teachers. Yes. But nothing about how she'd change the very system she worked in when she stood ​"for the people." Biden took a bow for fighting against violence against women but reduced his prescription to ​"changing the culture" by getting men involved on college campuses. Not wrong, but not specific. Mayor Pete Buttigieg talked about what was in his heart, but not about policing, and Elizabeth Warren ended that session discussing student loan debt.
In a season where candidates have rushed to lay out mine's‑better-than-your specific policy proposals and even cite specific statutory provisions on the debate stage, except for an exchange between Booker and Biden on marijuana decriminalization and expungement, last night the trending arrow for justice reform was decidedly and perplexingly pointing down.
This strikes me as a monumental missed opportunity. We ought to be talking about a system that leads to almost one in every two American families having an immediate family member incarcerated in the last 10 years. First Step Act in the rearview mirror, we are ready to talk about the second, third and fourth steps we need to enact common sense, evidence-supported change. To wit: The Real Act, the bipartisan sponsored repeal of the 1994 ban on Pell grants for incarcerated students. Making post-secondary education accessible for incarcerated students increases opportunity, increases safety in prison, reduces recidivism and correctional expenditures, and develops a pool of needed employees in a tight labor market.


We ought to be talking about a system that leads to almost one in every two American families having an immediate family member incarcerated in the last 10 years.
Twenty-five years past the 1994 crime bill, we are ready to talk about a new paradigm to address harm and wrongdoing that seeks to provide safety for all communities, does not peddle in fear and racism, and does not mistake excessive punitiveness for accountability. For the people, as we say. We note that the criminal legal system is 90 percent state and local, but there is no reason the federal government should not lead and reshape those systems with all the tools in its toolkit — vision, policy incentives, money, role-modeling, and bully pulpit. After all, if Washington could end post-secondary education in prison with a few words, induce the building of state prisons and policy change with grants, put 100,000 cops on the street, and erect an entire field addressing domestic violence, there is much visionary and practical work to be done. Last week Rep. Ayanna Pressley put down such a marker. Surely that, and the ideas within it, were worth discussing.
But maybe we did discuss them, and we just missed it. Early in the debate, Warren described her plan for building 3.2 million affordable housing units, including for people returning from incarceration. In so doing, she gave a history lesson, explaining the structural racism that has led to the criminal legal complex we have today, as well as the underinvestment in what people need to thrive. ​"Housing is how we build wealth in America. The federal government has subsidized the purchase of housing for white people and has said for black people, ​'you are cut out of the deal.' That is known as redlining." Maybe this is some of the justice reform we are all looking for.
Canceling Debt Won't Change Realities of Higher Education
Lanae Erickson, Senior Vice President for Social Policy & Politics, Third Way

By next year, more than two-thirds of jobs will require some form of education beyond high school, so it's a matter of utmost national importance that we get more Americans the quality credentials they need to earn a secure life. Unfortunately, the limited airtime that has been spent in the Democratic debates on higher education so far hasn't focused on achieving that goal. In two hours of debate last night, the discussion of higher education boiled down to exactly one line, when Senator Warren exclaimed, ​"Every candidate on this stage should be embracing the cancellation of student loan debt."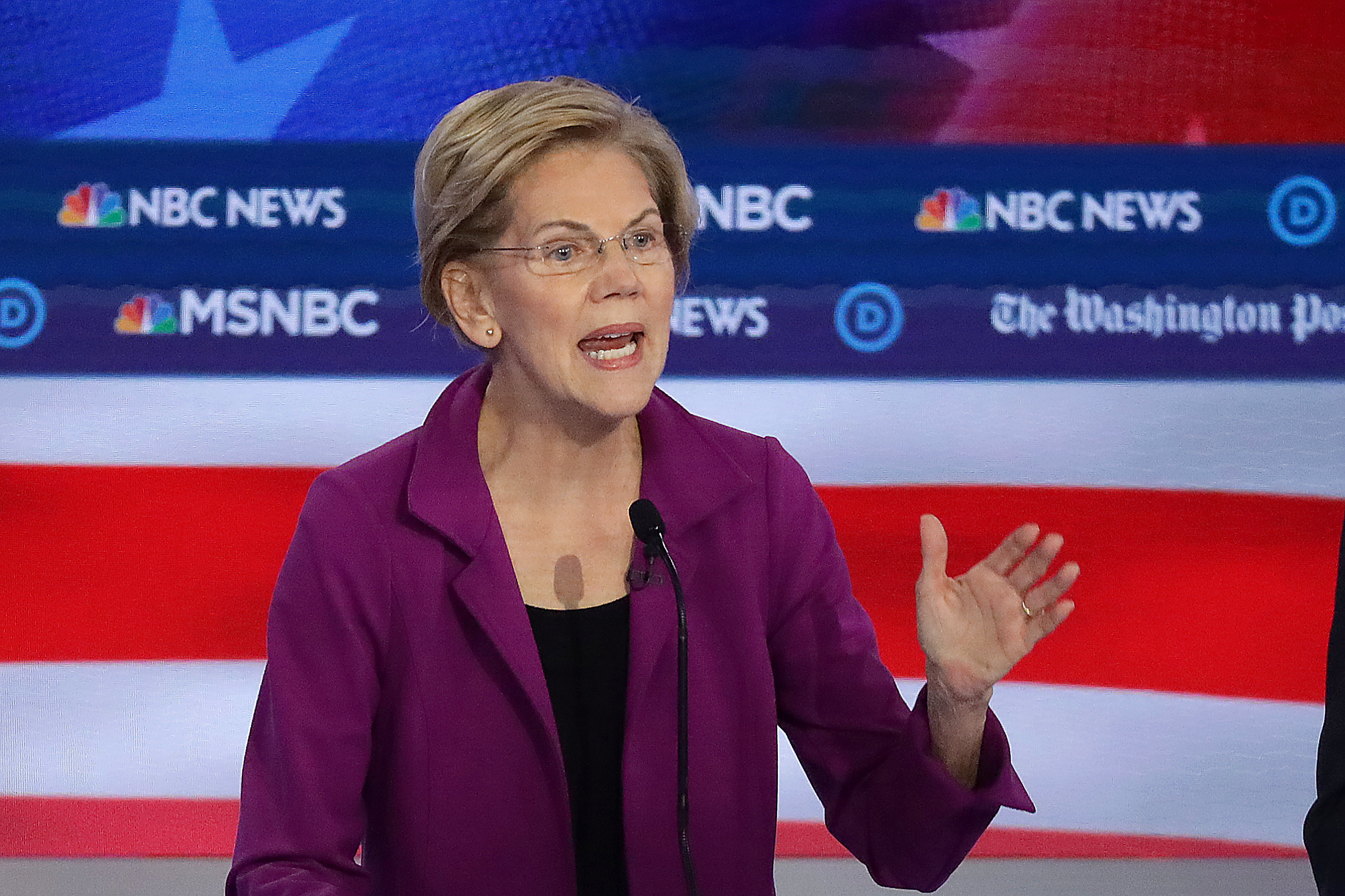 The reality is that bumper sticker plans like this one — as well as other pithy promises to make college free — would do almost nothing to increase degree attainment or improve student outcomes in our higher education system. Free college and debt forgiveness might be popular with hyper-engaged activists on Twitter, but they wouldn't change the reality that only half of students who enter postsecondary education today earn a degree, and those who start college but don't finish are three times as likely to default on their loans. Worse, the funds spent on free college and debt forgiveness could end up spending limited resources to pay off debts for those with expensive Ivy League degrees who don't need the help, instead of investing in the open-access schools that educate students who need the economic mobility higher education promises the most.

Candidates should devote more time to helping low- and moderate-income students and students of color make it not just to, but through, college and ensure they see the return on their postsecondary education investment. That's the test of what's truly progressive.

Medicare for All vs. the Public Option
Linda J. Blumberg and John Holahan, Institute Fellows, The Urban Institute
On the pressing topic of how health insurance coverage, the Democratic candidates have primarily centered their discussions on how to further expand coverage, improve affordability, and control national health spending.
One set of proposals builds on the Affordable Care Act (ACA), improving subsidies for nongroup purchasers, filling in the gap left by states that have not expanded Medicaid, and introducing a public option to compete with private nongroup insurance plans. An auto-enrollment backup would reach near-universal coverage.
Others support a single payer system, commonly referred to as Medicare for All. The latter abolishes private insurance, placing everyone into a government-operated health plan. The most frequently debated version would provide health insurance coverage to undocumented immigrants, offer broader health benefits than what is typically available in plans today, and eliminate virtually all cost-sharing.
Both approaches control costs by regulating provider payment rates; the difference is in how many people would use the regulated prices. The public option would pay providers at rates lower than those paid by most commercial insurers, perhaps at levels approximating those paid by Medicare, but would only be available to people enrolled in nongroup insurance. Alternatively or in combination with a public option, provider payment rates for all insurers in the nongroup market could be capped at the same levels. Under a Medicare for All approach, everyone in the country would be enrolled in a plan using provider payment rates set by the federal government.
Depending on where payment rates are set, the public option approach with enhanced subsidies could reduce national health spending while somewhat increasing federal spending. Prominent Medicare for All proposals would increase federal spending much more, and are likely to increase national health spending too, since their broad expansions of coverage and benefits without cost-sharing would more than offset savings from reducing provider payment rates and administrative costs.
Either way, those touting these policy reforms should answer a fundamental question: How low should payment rates be set for hospitals, professionals, and manufacturers of drugs and devices? How quickly can reimbursement rates be reduced from current levels that vary enormously by geography, provider and payer? And how do we balance our desire for cost containment with access to high-quality care?
The answers remain to be seen.
Little Said on a Leading Cause of Death
Regina LaBelle, JD, Director, Addiction & Public Policy Initiative
Drug overdoses are the leading cause of accidental death in the United States. Despite this, scant attention was paid to opioid misuse and overdose deaths in the Democratic presidential debate. This glaring gap in discussion reflects earlier debates as well, when comments mainly centered on holding the opioid pharmaceutical industry and industry executives accountable. While the ongoing opioid litigation is important, candidates should also engage in a broader conversation about the disease of addiction in our country, and on their plans to prevent substance use disorder and provide evidence-based treatment, recovery, and harm reduction services.
The Democratic candidates have released such plans to tackle the opioid epidemic and other forms of substance use disorder. These plans include multi-billion proposals to invest in early intervention, treatment, and harm reduction programs. While there are similarities across plans, there are also key differences, including the extent to which they emphasize comprehensive, long-term plans that expand services across the continuum of care or incorporate policy changes such as decriminalization for drug possession.
Voters are likely concerned about substance use disorder and the opioid epidemic, and they should hear about why candidates are proposing such large public health responses. They should also learn more about their differences so they can make informed decisions about which plan they support. Despite positive signs that the rate of opioid mortality in the nation is decreasing, opioids and the increasing prevalence of methamphetamine has affected communities across the country, and elected officials can be expected to deal with the devastating consequences of the opioid epidemic, and the broader issue of addiction, for years to come. We would all benefit from learning more about how they plan to do so.

Drug Pricing Remains a Hot-Button Issue
By Aaron S. Kesselheim, M.D., J.D., M.P.H.
Professor of Medicine, Harvard Medical School
Director, Program On Regulation, Therapeutics, And Law (PORTAL), Division of Pharmacoepidemiology and Pharmacoeconomics, Brigham and Women's Hospital

While health care didn't command as much attention as it had in prior debates, the high cost of prescription drugs still managed to generate conversation.
Sen. Bernie Sanders (I‑VT remarked that we pay 10 times more for prescription drugs than Canada and other countries. He is correct about certain drugs. Overall, brand-name drugs are much more expensive in the United States than anywhere else in the world, although the degree to which Americans pay more can vary widely.
A 2013 review found that per capita spending on prescription drugs was $858 on average per person in the U.S., compared to $400 on average for 19 advanced industrialized nations.
This is fundamentally because in the U.S., pharmaceutical manufacturers set prices at whatever the market will bear and the patchwork of private and public U.S. payers are limited in various ways in their ability to negotiate for lower prices.
For example, Medicare Part B, which covers office- and hospital-administered drugs for U.S. patients over the age 65, pays the average sales price of a drug (plus a small amount) without further negotiation. In a recent study, we found that prices for the same drugs in other high-income countries were a median of 46 – 60% lower than those in the Part B program.
High drug costs can be harmful. They have contributed to medical bankruptcy and can prevent people from adhering to necessary prescriptions, leading to worsened health. Sen. Sanders has stated that his Medicare for All plan would eliminate copays, out-of-pocket costs and deductibles that contribute to expensive health care costs.

High drug costs can be harmful. They have contributed to medical bankruptcy and can prevent people from adhering to necessary prescriptions, leading to worsened health.
Sen. Elizabeth Warren (D‑MA) claimed she would on ​"Day One" lower the cost of certain vital prescription drugs, including insulin as well injectable epinephrine used to treat life-threatening allergic reactions. She says this plan will save the U.S. tens to hundreds of millions of dollars.
She also proposes finding alternative means of producing more affordable drugs by invoking the government's existing authority to use patented items by paying ​"reasonable and entire compensation" to the patent holder.
The underlying active ingredients in many of the drugs targeted by Sen. Warren are no longer patented. However, their prices remain high because of later-issued patents covering the drug's formulation or delivery device, allowing manufactures to keep prices elevated. While the ability to issue patents was included in the Constitution in the name of incentivizing innovation, the Founders would not have anticipated this strategic use of thickets of patents to extend market exclusivity for many years.
Insulin, for example, was famously discovered around 100 years ago by academic scientists who sold their patent for $1 each to the University of Toronto because ​"it belongs to the world." Although modern versions of insulin are improved, numerous formulations currently used have been around since the 1980s and 1990s and yet, they have been the subject of substantial price increases in recent years by the three manufacturers that dominate the US insulin market.
Sen. Warren proposes strategies such as government patent use, as well as antitrust investigations and enforcement of government-held patent rights in other drugs, to address the widely recognized problem that certain essential medicines have become unavailable to certain US patients due to excessively high prices made possible in many cases by these problematic applications of patents.