If you had to choose between living at home or in a nursing facility, which would you choose if you had a disability or were too frail to care for yourself? Most would likely choose their home, but they need support to do so. Home and community-based services (HCBS) are intended to provide this support and help people live independently in the community. HCBS include important supports like personal care services, respite care, and handyperson services. These services are not only intended to help people age at home, they also can prevent unnecessary acute care utilization like emergency room visits and hospitalizations.
However, access to HCBS is extremely limited. Medicaid is by far the largest formal payer of HCBS, restricting these important services to only 6 million of our lowest income residents (or those wealthy enough to pay privately and out of pocket). 1 And the COVID-19 pandemic shone a spotlight on the many gaps in access to HCBS. Nursing facilities were ground zero for COVID-19 outbreaks, with 40% of Medicare beneficiaries in nursing facilities diagnosed with COVID-19 or likely COVID-19 in 2020,2 and more than 15 nursing home residents dying per hour in the month of November 2020.3 Two-thirds of states reported that HCBS providers permanently closed during the pandemic, due to workforce shortages and the inability to remain financially viable.4 Family caregivers experienced higher rates of depression, anxiety, loneliness, and food insecurity (among other things) than their non-caregiver peers.5 The result of this devastation is unprecedented policy attention on improving and expanding access to HCBS through the Medicaid program.
Missing from the HCBS policy conversation, however, is the intersection of HCBS and improving health outcomes more broadly, including the impact of these expansions on acute care utilization like hospitalizations and emergency room visits. While HCBS is covered by Medicaid, many of the people that use these services have Medicare for their medical coverage. This simultaneous enrollment in Medicare and Medicaid is often referred to as ​"dual eligibility." Research tells us that when Medicaid HCBS and other long-term services and supports are integrated with Medicare it can lead to better outcomes for people and less government spending.

As Congress and the administration continue to consider HCBS policy, and as states build and execute plans for their Medicaid HCBS programs, policymakers should consider the impact on both Medicare and Medicaid. Any new funding and enhanced resources offer an opportunity to build meaningful strategies around Medicare-Medicaid integration. New integration pathways are emerging that deliver a high value care experience to dual eligible and pre-dual eligible beneficiaries, and help states sustainably meet the needs of a growing LTSS population. Congress and CMS should encourage these pathways.
Dual Eligibles Are Likely to Need
LTSS
Why does HCBS reform matter for people who are dual eligibles? Because more than 2 million dual eligible beneficiaries live at home and in other community settings and need assistance with at least one activity of daily living (ADL), such as eating or bathing (Figure 1) 6. In contrast, just under a million people who are dual eligible currently live in assisted living and nursing facility settings.
It's also well known that dual eligible beneficiaries comprise a large portion of both Medicare and Medicaid program resources compared to non-dual eligibles.7 However, the dual eligible label masks an even higher spending portion attributable to duals with long-term services and supports (LTSS) need compared to those without ("community well" dual eligible beneficiaries). Much of this spending is Medicaid payments for LTSS, both institutional and HCBS. But LTSS need has implications for Medicare spending as well. The Medicare program spends over twice as much on medical care, on average, for community-dwelling dual eligibles who need LTSS compared to those who don't (Figure 2).8 Part D drug spending also increases considerably when an individual has LTSS needs. This reflects the strong interaction between frailty and medical experiences.
Integrating
HCBS

and Acute Care Saves Money

Integrated programs have been shown to save the Medicare program money. For example, the managed fee-for-service demonstration in Washington state, which targets high-cost, high-risk dual eligibles, has reportedly achieved $232 million in Medicare savings over a five-year period.9 The Minnesota Senior Health Options (MSHO) program for dual eligibles aged 65 and older similarly reduced services paid for by Medicare, including hospital and emergency department use.10 A study in Oregon found that dual eligibles enrolled with the same organization for Medicare Advantage and Medicaid experienced lower hospital utilization and increased primary care. 11

Medicaid may benefit as well, but little research has been done on the effects of integration on delaying institutionalization (which Medicaid pays for), and we're still waiting on Medicaid results from the financial alignment demonstrations. Intuitively, though, having line of sight into an individual's HCBS benefit as they transition home from a hospital stay should improve the success of that transition. This is the spirit of CMS' Dual-eligible Special Needs Plan (DSNP) integration rules that require DSNPs to share data with a state when an enrollee has a hospital or skilled nursing facility state, and the DSNP isn't financially at risk for Medicaid services.
Policymakers Have Near-Term Integration Opportunities
Given this backdrop, and the potential emerging funding opportunities, states and policymakers should be intentional about the intersection of HCBS and Medicare. Expanding HCBS without consideration of Medicare will perpetuate the fragmentation that so many dual eligible beneficiaries already experience. And, the new funding to states likely will increase the number of individuals dually eligible for full Medicaid and Medicare.
Federal policymakers and states have several opportunities to lean into the Medicare program and work differently with the payers and providers who participate in it.
Moving Forward
The number of individuals in our country needing some degree of LTSS will continue to grow, with estimates as high as 70 percent of individuals who reach age 65 experiencing LTSS needs before they die.16 And as the demographic in the United States becomes older, the pressure that LTSS places on the healthcare system will only increase. Currently, nearly 2.5 million Medicare beneficiaries with LTSS needs are teetering on the edge of gaining full Medicaid eligibility, with incomes below 300 percent SSI (Figure 3)17.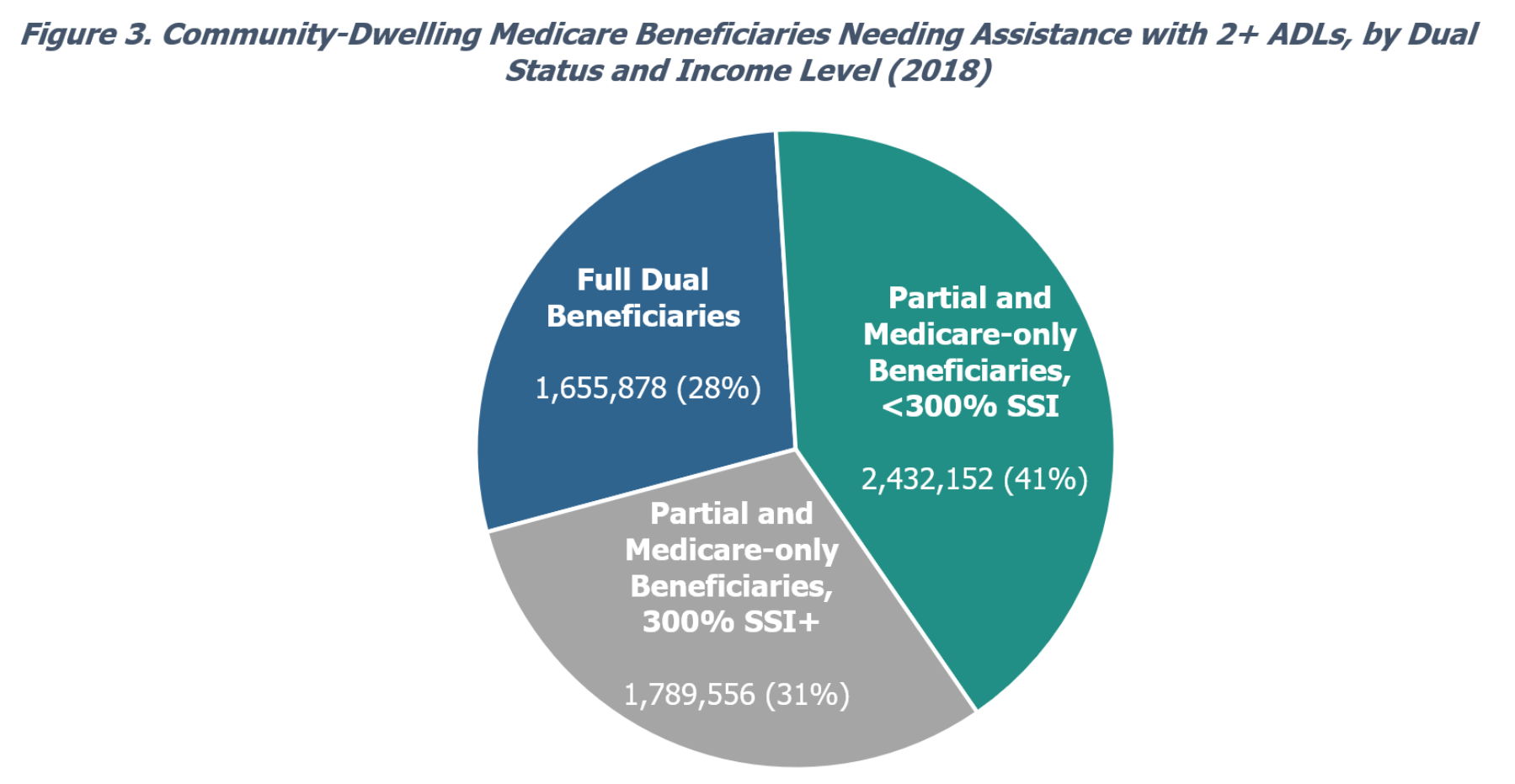 As policymakers continue to seek ways to increase access to Medicaid HCBS, they have to consider the intersection with Medicare and acute medical services. Many of the individuals teetering on the Medicaid eligibility line today are likely to become dual eligibles in the future. The federal HCBS funding proposals would increase funding for infrastructure development, workforce, and expanded services. But the ultimate success of this investment to prevent institutionalization, to meet beneficiary needs, and to enhance wellness will be determined by integration with medical care and more specifically, Medicare. Expanding HCBS won't work if it's done in a vacuum.
Why shouldn't individuals with LTSS needs in the community experience integrated care? It's to the benefit of a state. It's to the benefit of the Medicare program. And most importantly, it's to the benefit of the individual and their family caregiver. If we continue to think of HCBS and medical care in silos, we perpetuate the system inefficiencies and fragmentation that lead to dual eligibles driving each program's expenditures. Isn't it time we learn and improve?