Since the start of the novel coronavirus pandemic began last March, the nation's criminal justice system has been in a dire situation.
COVID-19 has infected more than 220,000 people housed in prisons and jails nationwide, and another 48,000-plus correctional officers have contracted the virus. More than 1,500 people associated with the criminal justice system have died.
The pandemic brought the system to its knees, former U.S. Attorney General Loretta Lynch said in an interview with CNN in December.
"We as a criminal justice system were not prepared to deal with all the issues the pandemic brought forth," Lynch told Wolf Blitzer, host of ​"The Situation Room."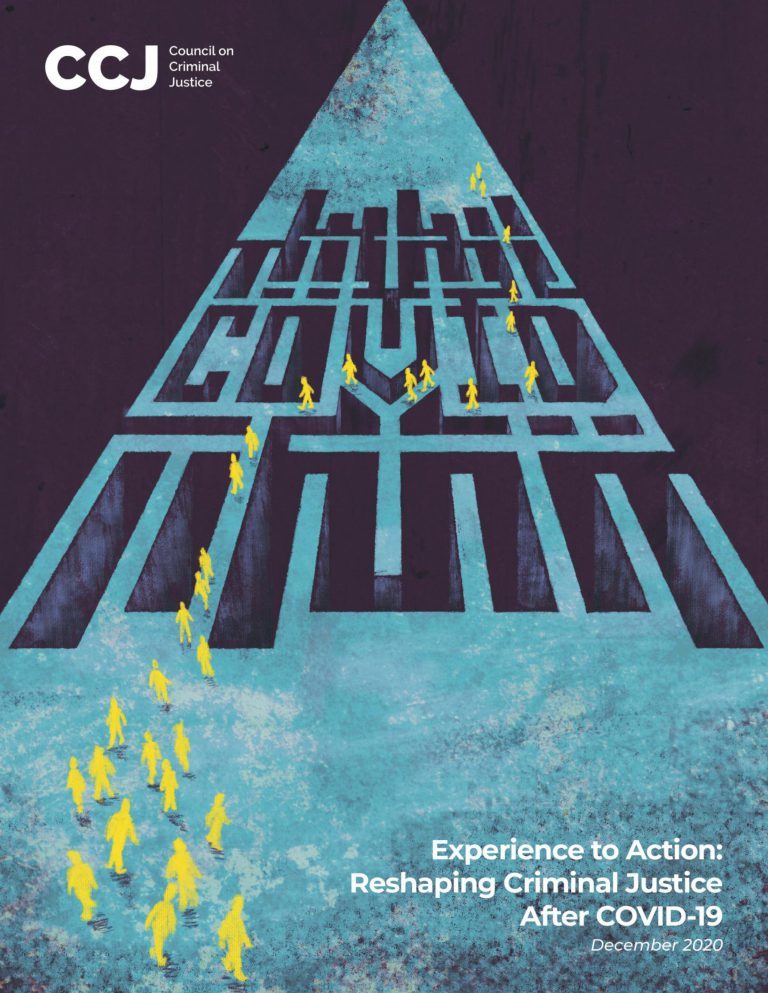 A report by the National Commission on COVID-19 and Criminal Justice provides the first-of-its-kind look at how the pandemic has devastated the nation's criminal justice system and contributed to the public health crisis nationwide.
The 14-member commission — which is co-chaired by Lynch and former U.S. Attorney General Alberto Gonzales — consisted of police and correctional officers, judges, and community-based organizations, which sought to recommend long-term policy changes to even the scales between public health and safety.
Its findings were released in December in a report, Experience to Action: Reshaping Criminal Justice After COVID-19, which notes that ​"hundreds of thousands of others who police the nation's neighborhoods, operate its courthouses, and serve justice-involved people in the community have also contracted the virus, leading to hundreds of lives lost."
These are the top takeaways:
#

1

The criminal justice system wasn't prepared for a long-term public health crisis
From lack of preparedness to a ​"dangerous and damaging" lack of communication, the commissioners found that few agencies across the U.S. were prepared for a highly contagious virus such as COVID-19.
With about 2.1 million people incarcerated at jails and prisons throughout the county, the facilities served as a breeding ground for the virus' spread. People incarcerated weren't able to socially distance, staff had to maintain close contact throughout their shifts, and there was a lack of personal protective equipment that could have helped curb the spread. Adequate testing has also been an issue.
In South Dakota, three out of five prisoners have contracted the virus, the highest rate in the nation. Prisons and jails in states such as Arkansas, Kansas, Iowa, Wisconsin, and Idaho have among the highest infection rates in the country.
While many criminal justice agencies have plans for short-term crises, such as natural disasters, Thomas Abt, director of the commission, said most don't have plans for months- or years-long crises like the coronavirus pandemic.
That has to change, he said.
To be better prepared for the next pandemic, commissioners recommended that those involved with the criminal justice system work more closely with public health authorities and community organizations. There should be a focus on limiting jail and prison populations, especially those charged with nonviolent crimes that don't affect public safety. Commissioners also urged the need for better messaging and communication from the federal government, which can also provide a more standardized approach to collecting data.
As Gonzales, the former U.S. attorney general and commission co-chair, noted on MSNBC: Many of these recommendations aren't new but rather common sense.
But, he added, ​"People fail to follow common sense sometimes, especially in a time of crisis."
#

2

Incarcerated individuals, prison and jail staff should be among first to receive COVID-

19

vaccine
With such high infection rates throughout the system, commissioners urged that people incarcerated and also prison and jail staff should be among the first to be inoculated.
Abt said it's important to understand that the commissioners aren't asking for special treatment. Rather, he said, ​"They're asking for an approach that's consistent with public health values."
New Jersey, Washington, and California are among the first states to begin vaccinating prisoners. After health officials in Colorado recommended prisoners and staff be among the first to receive the vaccine, Gov. Jared Polis said the state's vaccine supply wouldn't ​"go to prisoners before it goes to people who haven't committed any crime."
Other states, such as Texas, haven't included vaccine plans for incarcerated individuals or jail and prison staff.
"If congregate settings are an issue and we have people who are unable to physically distance with where we're seeing the largest outbreaks and where people have pre-existing health conditions, we should be paying attention and taking care of them," Abt said.
#

3

A focus on pretrial intervention can help limit spread
Lynch, the former attorney general, said on MSNBC's Morning Joe that she was concerned with the density of prison populations, especially during a pandemic.
Data from the beginning of the pandemic shows that state and federal prison populations have fallen: 5% for state prisons and more than 10% federally. And while that trend was true for jail populations in the early days of the pandemic, data now shows that jail populations are trending upwards.
Commissioners noted in the report that ​"with fewer people incarcerated, correctional officers will find it easier to place individuals in single cells, maintain sufficient resources for testing, and safely quarantine people after exposure to the virus."
In order to lessen the incarcerated population, commissioners recommended:
Police officers issue tickets rather than arrests in cases where public safety isn't threatened
Better communication between prosecutors, defense attorneys, and judges to advocate for pre-trial release for certain individuals
Finding other methods rather than jailing individuals where public safety won't be harmed
"There's definitely room to look at certain types of offenses, low-level offenses, that often get picked up and criminalized that could be dealt with citations, desk-appearance tickets," Lynch told MSNBC. ​"Looking at ways in which we can limit the contact of law enforcement and citizens also means we can limit the number of people who get pushed into the criminal justice system."
#

4

Lack of federal guidance and communication hampered response
From a ​"patchwork of policies" and ​"lack of consistency" from the federal government, jurisdictions across the United States were left to figure out their own responses to the pandemic.
Although the federal government doesn't control the majority of the nation's prisons and jails, Harris County Sheriff Ed Gonzalez, who served as a commissioner, said federal agencies still play a role.
"They can offer information, training, support, and more. Perhaps most importantly, they can bring people together across jurisdictions and boundaries," Gonzalez said.
Due to the lack of federal response, inconsistency across the system led to larger outbreaks in some areas — such as South Dakota — and the lack of consistent, relevant data has made it difficult for researchers to get an accurate picture of the virus' impact on the system.
Some agencies failed to report the most basic data, such as a person's age, gender, race, or any pre-existing health conditions.
To improve communication, commissioners urged the need for the rapid, transparent release of reliable information that is distributed to liaisons within agencies across the nation.
"Effective communication is absolutely critical," said Abt. ​"It's not something that happens on its own. You have to prepare for it, you have to train for it."