Growing up in rural North Carolina in the 1960s, Dennis Gaddy witnessed first-hand the power of the vote. He watched his mother travel Robeson County, registering thousands of Black voters in a summer. He accompanied his father, who was chair of the neighborhood precinct, as he hand-delivered final votes to the county board of elections on election night. And he looked on in awe as those votes were tallied on a big wall — each person's ballot making a mark.
"I grew up with this in my head, in my spirit," Gaddy said. ​"It was my mom carrying on the conversation that we've got to fight an uphill battle. We need to register to vote, our people need to get registered. Because at least we have the opportunity."
It was an opportunity that most Black North Carolinians did not have for a century following the Civil War as white conservatives worked to suppress Black political power to avoid ​"Negro domination." It was an opportunity denied for decades to those who couldn't afford a poll tax or pass a literacy test, a requirement from which most white people were exempt.
And it was an opportunity that would be taken away from Gaddy after he was sent to prison in 2000 and remain out of reach even after his release from incarceration.
"When I got out in 2005, having a seven-year probationary period, I missed voting for the first African American president in 2008," Gaddy said. ​"And that had an impact on me. I was out working. I was out paying taxes. I was doing everything the people who voted were doing."
Because of a North Carolina law that said anyone convicted of a felony could not regain the right to vote until they completed probation or post-release supervision (also known as parole) and paid off all court fines and fees, Gaddy was unable to participate in the historic 2008 election. This summer, more than 56,000 North Carolina residents fell into that category: They'd served their time but were not permitted to vote until they were ​"unconditionally discharged" and paid off all money owed to the court.
That law, attorneys Daryl V. Atkinson of Forward Justice and Daniel Jacobson of Arnold & Porter argued in court in August, is deeply rooted in North Carolina's racist history and should be ruled unconstitutional. The legal team took the case to state Superior Court, armed with hundreds of pages of evidence. And in early September, they received a partial victory: A three-judge panel concluded that part of the state's felony disenfranchisement law — what is essentially a poll tax, requiring a person to pay all court fines and fees before regaining the right to vote — is in violation of the state constitution and will not be enforced in the upcoming election. Other aspects of the law, the panel said, will remain in place but should be argued in more detail at trial next year.
"I've been in this business long enough to not snatch defeat from the jaws of victory," Atkinson said of the ruling, which he called ​"justice delayed, not justice denied." ​"It was a slight bit of disappointment to not win the whole 56,000 prior to the November election, but we won a good chunk, and those people now have their rights restored."
The fees and fines ruling applies to only a subset of the 56,000 — those whose probationary period was extended solely because they failed to pay all of their legal financial obligations, which is likely somewhere between 5,000 and 7,000 people. The ruling also clarified that people who completed their probationary period without paying all of their legal financial obligations — or if those fines and fees were converted to civil liens at the completion of their probationary period — are also eligible to register to vote.
In between furiously working to get the word out to the newly enfranchised before the upcoming election and preparing for a possible January trial to argue against the rest of the law, Atkinson took a moment to reflect on the case and the history it was built on.
Expanding the ​

'

We' in ​

'

We the People'
The case against the North Carolina Board of Elections and state General Assembly was filed in Wake County Superior Court in November 2019 on behalf of four North Carolina residents and four community groups — including lead plaintiff Community Success Initiative, a nonprofit founded by Gaddy after his release from prison that supports people impacted by the criminal justice system.
Atkinson, co-counsel in the case and Co-Director of the North Carolina-based organization Forward Justice, said the litigation was brought as part of Forward Justice's Unlock Our Vote campaign as the group fights for equal access to the ballot.
"Part of our principal strategy is expanding the ​'we' in ​'We the People,'" Atkinson said. ​"Black folk weren't always included in the ​'we'; women weren't always included in the ​'we.' Expanding the franchise, expanding that ​'we' to include more people is a key strategy, and that's what we tried to do with the lawsuit."
The ​"we" is deeply personal to Atkinson. While he was arguing the North Carolina case in August, he wasn't speaking only for the plaintiffs; he was speaking for himself. Atkinson is disenfranchised in Alabama — the place of his birth — because he owes $32,000 from a $50,000 fine associated with a 1996 conviction. He has sent in payments to the state for the past 193 months. But until that $50,000 is paid off — or Alabama changes its law — Atkinson, who owns property in his home state, will never be able to vote there.
"It certainly animates the motivation to do a good job and to want to try to put the best case that you could possibly put forward," he said.
Professionally, Atkinson was awed by the potential the case had. After he was released from prison, he received a law degree and cut his teeth on trial work, where it seemed like the odds were constantly stacked against him. As a third-year law student working as a public defender in Minnesota, he often felt defeated going into battle unarmed, with too many cases, too little time, and not enough good facts and evidence to argue. It was one of the reasons Atkinson left that area of the law and turned his focus to civil and human rights in the criminal justice system.
But the disenfranchisement case was different from those in his early career. He was taking on the state of North Carolina, arguing that its law was deeply rooted in racism. And this time, the evidence was overwhelming.
"To have a case like this with so much compelling evidence … to have that treasure trove at your disposal to be able to argue, it's just a case that you want to be a part of," Atkinson said.
North Carolina's Dark Past
That treasure trove of evidence included testimony from three experts, including a historian whose report outlined the racist intent and origins of the law.
On page 9 of the initial complaint, amid a summary of North Carolina's voting history, is a striking image.
A caricature of a Black man with vampire wings, sharp claws, and a menacing face stands on a ballot box, poised to attack the fleeing white men and women below. On his wings are the words ​"Negro Rule." The political cartoon, which ran in the News & Observer in September 1898, is titled ​"The Vampire that Hovers Over North Carolina."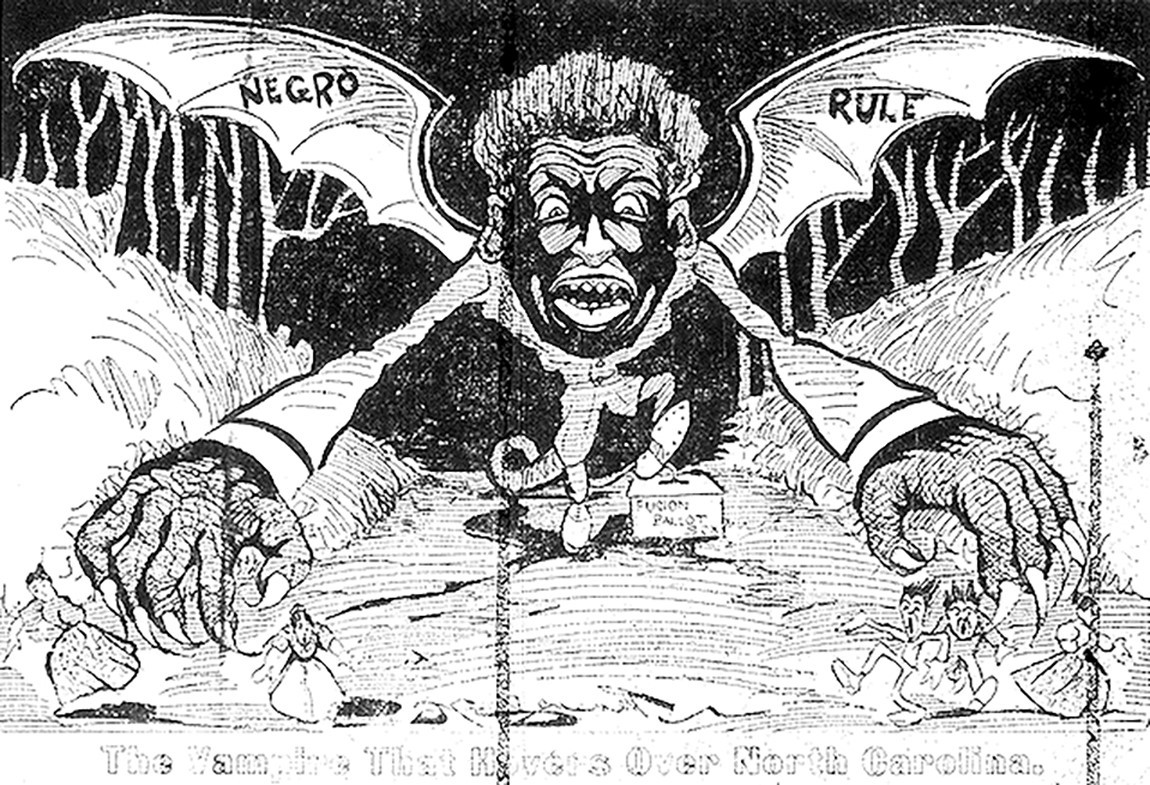 The message — just one of countless cartoons and editorials that ran in the lead-up to North Carolina's 1898 election — was clear: Political power in the hands of Black men is a danger to white society.
While the year 1898 is infamous in North Carolina — not only did that election kick many Black politicians out of office, but white supremacists in the coastal city of Wilmington went on a two-day rampage, murdering African Americans, ransacking their community, and installing themselves in the ​"elected" positions — its history of denying Black men the right to vote goes much further back.
Orville Vernon Burton, a professor of history at Clemson University in South Carolina and an expert witness for the plaintiffs, detailed that dark history for the court. It's a history that even the defense in the case couldn't deny; none of it was rebutted in court.
While free Black men prior to 1835 could vote, that changed via an amendment to the North Carolina Constitution as white conservatives worried about slave revolts and the threat of Black political activism. As for felony disenfranchisement — it didn't exist, Burton wrote. White men could lose their right to vote if they committed an ​"infamous crime" — such as treason, bribery, or perjury, or from receiving an infamous punishment such as whipping — but there was no blanket rule for all felonies.
After the Civil War ended and slaves were freed, white conservatives — bracing for the federal government to hand down voting and other rights to Black men — turned to other means to disqualify them. Among the tactics: whipping freedmen to render them ​"infamous" in the eyes of the law, which took away their right to vote even if suffrage was eventually extended to the race.
After North Carolina's 1868 Reconstruction-era constitution guaranteed the right to vote to all men 21 years or older, white conservatives lashed out and turned to vigilante violence to stop Black men from voting, Burton wrote. At the 1875 N.C. Constitutional Convention, legislators amended suffrage requirements to take away voting rights from those convicted of a felony or any other ​"infamous" crime. In order to get those rights restored, the person had to petition the courts, which was a timely, costly, and — being at the discretion of white judges appointed by the legislature — often futile for Black men.
But that wasn't enough for conservatives, and in 1899, the state constitution was amended further to impose literacy tests and poll taxes — but primarily only for Black men. The Legislature was able to do this by grandfathering in an exception for any person who was permitted to vote on or before Jan. 1, 1867 (i.e., was white), or was a lineal descendant of such a person.
In 1968, for the first time since Reconstruction, a Black man was elected to the N.C. General Assembly, and Henry Frye's first bill was to amend the constitution to abolish the literacy test. That amendment, however, failed during a 1970 referendum. Frye's fight was personal; in 1956, the college graduate and Air Force officer who had been accepted into law school was unable to register to vote because he was told he failed the literacy test. (It should be noted that the literacy test requirement, while no longer enforced, remains in the North Carolina Constitution despite multiple efforts to eliminate it.)
By 1973, there were three Black men seated in the General Assembly, in the House, and they sponsored a bill making the restoration of voting rights automatic after the completion of felony imprisonment. But they were only able to persuade their colleagues to go so far: The automatic reinstatement of citizenship voting rights was approved but only after completion of probation or post-release supervision. This is the law that stands today.
"To achieve even that victory, we vehemently argued and appealed to our colleagues that if you had served your time, you were entitled to your rights," wrote Henry Michaux Jr., the third Black man elected to the General Assembly, in an affidavit for the 2020 case. ​"Before the reforms we achieved, you had to go to court to have your rights reinstated, and who had the money to go to court had a major impact on who had access to reinstatement based on race. Even then, who was granted reinstatement was discretionary and discriminatory.
"We saw our efforts as a step forward," Michaux wrote, ​"understanding that it did not solve the original problem: the law was designed to suppress African American voting power and it had created a perverse incentive to criminalize and charge African Americans differently to achieve that aim."
Racism and Classism in the Criminal Justice System
The case was not just about North Carolina's history, however; it was also about its present and the systemic racism that still exists in the criminal justice system, Atkinson argued in court. Study after study has shown that Black people in the United States are charged at a higher rate than white people and face more severe punishments. A 2017 report from the U.S. Sentencing Commission determined that Black men receive, on average, a sentence that is 19 percent longer than the sentence of white men who commit the same crime.
So it's not surprising that while Black people represent around 22 percent of the voting-age population in North Carolina, they make up 42 percent of those who remain disenfranchised even after getting out of prison. The statistic was presented to the court in the expert testimony of Frank R. Baumgartner, a political science professor at the University of North Carolina at Chapel Hill. He also found that there isn't a single county in the state that has a rate of disenfranchisement for whites that is higher than that for Blacks; in fact, eight counties have rates for Blacks that are more than five times higher than for whites.
"Racial disparities in disenfranchisement rates are as ubiquitous throughout the state as they are strong," Baumgartner wrote in his report. ​"No region of the state escapes from this pattern."
Traci Burch, an associate professor of political science at Northwestern University and another expert witness for the plaintiffs, presented another relevant statistic: Only about half of North Carolinians released from prison are employed a year after their release. This makes their ability to pay off fees associated with their incarceration, probation, or post-release supervision nearly impossible.
Baumgartner found that nearly every person who is disenfranchised in North Carolina because they are on probation or post-release supervision also owes a substantial amount of money — averaging more than $2,000 per person on probation and more than $500 for those on post-release supervision. Those fines and fees include court costs, monthly probation or community supervision fees, and restitution.
When your voting status is linked to your ability to pay off that debt, Atkinson argued, it creates an ​"impermissible wealth-based classification," which is unconstitutional. Essentially, it means that those who can afford to pay off their fines and fees can vote, while those who can't are banned from the ballot box.
"The legal financial obligations imposed by courts and corrections systems heavily burden defendants and offenders," Burch wrote in her report to the court. ​"These obligations are particularly injurious given the fact that debtors often are indigent even before their convictions and are made more so by the stain of their new criminal records."
2x
According to an analysis of 20 million unique traffic stops, Black people in North Carolina are twice as likely as white people to be stopped and searched, even though police were less likely to find contraband on Black drivers when compared to white drivers.
Source
52%
The proportion of Black people in prison in North Carolina in 2017, despite making up only 23% of state residents. Black people represented 48% of people in jail in 2015.
Source
72%
The percentage of felonies that are nonviolent among people who are on probation in North Carolina.
Source
3.3x
In 2018, Black North Carolinians were 3.3 times more likely than whites to be arrested for marijuana possession.
Source
400%
The proportion that court costs in North Carolina have increased over the past two decades.
Source
11%
While judges do have discretion to dismiss some or all court costs for defendants, only 11 percent were waived in whole or in part in 2015.
Source
Effects of Disenfranchisement
After Gaddy, 63, was released from prison in 2005, he came home to a powerful support network, including his wife, children, and parents. But knowing that not everyone who leaves prison is as fortunate, he created Community Success Initiative to help formerly incarcerated people transition back to the community. And he signed his organization on as lead plaintiff in the N.C. felony disenfranchisement case for the same reason.
Taking away a person's voting rights blocks them out of the process of being a citizen, Gaddy said. ​"It's like you don't count," he said.
Coming home after serving time in prison is already a tough transition for many as they face employment and housing issues. When you add the loss of voting rights, ​"it can be kind of deflating," Gaddy said. ​"And if there's any time that you need to be in power, it needs to be when you come home."
And disenfranchisement doesn't only affect formerly incarcerated people, Burch said. ​"It produces harmful effects for individuals, families, and communities," she wrote. ​"Disenfranchisement sends harmful messages of social and political exclusion that can hurt reintegration." Additionally, ​"disenfranchisement rates can get so high that they produce spillover effects that suppress voting among the families and communities of disenfranchised citizens."
Shakita Norman of Raleigh found herself unable to continue working at her customer service job when the pandemic hit in March and her children were forced home to attend school remotely. She has a stake in what happens in November — not only the direction the country will take but who will be appointed to her local school district.
But Norman, 29, who had voted in past elections, is banned from doing so this year because of her probation status.
"I would like to be able to effect change in the community in which I work and in which my children attend public school," said Norman, one of the individual plaintiffs in the felony disenfranchisement case, in her affidavit. ​"Some of the issues that I care most about are improving our public schools and speaking up for my children as a single mother."
Living in the community, paying taxes, taking care of her kids, Norman has a vested interest in the outcomes of state, federal, and county elections, Atkinson said.
"There is a Wake County Public School Board election this November," he said. ​"And those school board members are going to be deciding if Miss Norman's children have to either attend in person or they are going to be virtual learners. But Miss Norman has no say so in choosing those people, in selecting who those people are. That not only impacts her, that impacts her children."
What's Happening in Other States
As the disenfranchisement of those with felony convictions has gained national attention over the past few years, there have been a flurry of changes to laws across the country.
Governors in Iowa and Kentucky — states that had banned voting for life to those with felony convictions — recently signed executive orders restoring rights to those who have completed their sentences, though they, like in North Carolina, must also complete probation or parole. Similarly, in Florida in 2018, voters overwhelmingly approved an amendment ending the disenfranchisement of people convicted of felonies — restoring the right to about 1.4 million people.
But despite the large margin by which voters approved the amendment in Florida, there was still resistance from politicians. The following year, the Republican-controlled Legislature approved a bill requiring those convicted of felonies to settle their financial obligations to court before having their voting eligibility restored. While a lower court in May found that the law was discriminatory, the U.S. Court of Appeals overturned that ruling in September, saying Florida can indeed disenfranchise those who still owe financial legal obligations. It's estimated that half of the 1.4 million people had the rights taken away again.
Atkinson said he wasn't surprised by the Florida ruling, which came a week after North Carolina's win on the same issue; one of the reasons the North Carolina case brought state constitutional claims was to stay out of federal court, where President Donald Trump has appointed more than 200 federal judges and it would be hard to win. Once Florida's earlier ruling that the law was unconstitutional was forced to go before the entire 11th Circuit, ​"it was inevitable they were going to knock it down because they weren't going to be led by the law; they were going to be led by partisan outcome," Atkinson said.
But Atkinson said it's important that people not overlook how big of a win the 2018 amendment was: Data shows that there are more than 100,000 people with felony convictions who are now registered to vote in Florida as a result of that amendment.
"They won a huge human rights and civil rights win," Atkinson said. ​"The Legislature and then the court unfortunately are trying to limit that win, but there are still plenty of people who can get registered and are getting registered in Florida to help shift that outcome of that state."
And every year, more states are expanding their voter base. In November, California will vote on a ballot initiative that would restore the right to vote to people with a felony conviction who are on parole (the state already allows people on probation to vote).
While Atkinson has been heartened by the changes made across the country, he said the fight continues.
"What I've learned over this period is white supremacy is persistent, it's durable, it's lasted this long for a reason; otherwise it would have been dismantled long ago," he said. ​"So I know that the breakthroughs we're having on this issue right now across the country, whether it be through ballot initiatives or people changing the laws through state legislatures or the courts, I know that we're going to have to continue to win and win again and probably win again because systems are durable in maintaining the status quo."
What Now?
Because there were two defendants in the case — the Board of Elections and the Legislature — either could appeal September's ruling in the N.C. disenfranchisement case. But so far neither has. The Board of Elections decided it would not appeal and would work on identifying those who are now eligible to vote. The legislative defendants have been silent, Atkinson said.
With less than a month left for North Carolinians to register to vote — the official cut-off date is Oct. 9, but people can also register during early voting from Oct. 15 to 31 — Forward Justice, Community Success Initiative, and their partner Second Chance Alliance are deploying multiple tactics to get the word out to the newly enfranchised and others who may not be aware of their eligibility.
"We've been contacting, phone banking, text blasting," Atkinson said. ​"We've been checking on their voter status and educating them, agitating them to get registered … to expand the ​'we' with people who are low-propensity voters because they never felt this system was set up for them."
November's election is a critical one, Atkinson said, as the country faces a pandemic and racial unrest. ​"We're really in a crisis moment in our democracy, and we need as many people participating to help shape the direction of the country as possible," he said.
"There are 200,000 American families who are mourning the death of loved ones since February. We're seeing social unrest the likes of which we have not seen since ​'68. Millions of people are out of work," Atkinson said. ​"If there was ever a time, where we need to hear from all of our citizens, all of our community members on the proper direction of our state and federal government, now is that time. When would it not be?"
In North Carolina, A History of Voting Disenfranchisement
1835: As white conservatives worry about slave revolts and the threat of Black political activism, the North Carolina Constitution is amended to disenfranchise free Black men. A few years later, the Legislature rules that white men who had been disenfranchised because of ​"infamous crimes" — such as treason, bribery, or perjury, or from receiving an infamous punishment such as whipping — could have their voting rights restored by petitioning the Superior Court. There is no disenfranchisement for felony convictions.
1866: The state passes an ​"Act Concerning Negroes and Persons of Color" — one of many ​"Black codes" passed in the South after the war — which strictly curtails the rights of Black citizens. White North Carolinians also take to whipping freedmen to render them ​"infamous" in the eyes of the law, which takes away their right to vote even if suffrage is eventually extended to the race.
1867: In a speech, U.S. Rep. Thaddeus Stevens blasts North Carolina for whipping and disenfranchising Black men, adding that disenfranchisement should be prohibited for any crime ​"other than for insurrection or treason." It has been reported, Stevens says, that North Carolina is ​"whipping negroes for a thousand and one trivial offenses" and that in one county, they have whipped every Black man with the sole purpose of preventing them from voting.
1868: With its constitutional convention including a leadership of Black delegates who are supported by progressives, North Carolina's 1868 Reconstruction-era constitution guarantees the right to vote to all men 21 years or older, with no provisions for disenfranchisement based on felony convictions.
1875: After the passage of the 15th Amendment in 1870, it becomes more difficult to disenfranchise African Americans outright, so white supremacists latch on to the criminal exemption of the 13th Amendment allowing denial of the rights of citizenship ​"as a punishment for crime." At the constitutional convention, suffrage requirements are amended to take away voting rights from those convicted of a felony or any other ​"infamous" crime. The amended constitution also strips counties of the right to appoint judges, which means that because the restoration of the right to vote is discretionary and granted by individual judges, it is unlikely Black men will have their right restored.
1890s: White Populists and Black and white progressives enjoy a short-lived return to power. As a result, 59 African Americans are elected to the North Carolina House and 18 to the Senate between 1876 and 1900. Alongside this progress comes cries from white conservatives of ​"Negro domination," and what follows is a terrorist campaign of white supremacy.
Nov. 3, 1898: In the run-up to Election Day, the chairman of the state Democratic Party writes in an op-ed to voters that ​"North Carolina is a WHITE MAN'S State, and WHITE MEN will rule it, and they will crush the party of negro domination beneath a majority so overwhelming that no other party will ever again dare to attempt to establish negro rule here."
Nov. 10, 1898: White supremacists in the coastal city of Wilmington go on a two-day rampage, murdering African Americans, ransacking their community, and installing themselves in the ​"elected" positions.
1898: The Democratic Hand Book states that felony disenfranchisement, along with other suffrage restrictions, is necessary ​"to suppress fraud and protect white suffrage" and prevent ​"the honest vote of a white man in North Carolina" from being ​"off-set by the vote of some negro."
1899: Democrats take back control of the General Assembly, and one of their first orders of business is the disenfranchisement of Black voters. The state constitution is amended to impose literacy tests and poll taxes — but primarily only for Black men. Legislators did this by grandfathering in an exception for any person who was permitted to vote on or before Jan. 1, 1867 (i.e., was white), or was a lineal descendant of such a person.
1899: Once conservatives are able to reassert white supremacy in North Carolina with the suffrage amendment, they make the process of restoring citizenship rights more easily achievable for those convicted of a felony. After a group of white politicians is convicted of a felony in 1897, a bill is introduced to allow for a speedier restoration of citizenship rights in certain cases; a person convicted of a felony would have to wait just one year after conviction before submitting a petition to have their rights restored, instead of the four years required to wait when the law was targeted to Black men.
1969: Henry Frye, the first African American to be elected to the N.C. General Assembly since Reconstruction, leads an effort to introduce a constitutional amendment to abolish North Carolina's literacy test for voting.
1970: Frye's amendment, placed before the people of North Carolina in a constitutional referendum vote, is defeated. (Though the 1965 Voting Rights Act and the 24th Amendment dismantled literacy tests and poll taxes, respectively, in most states, North Carolina fought against them; the literacy requirement remains in the state constitution to this day.)
1973: With three Black men now in the Legislature, they sponsor a bill to make the restoration of citizenship rights automatic after the completion of imprisonment. But they are only able to persuade their colleagues to go so far: The automatic reinstatement of citizenship voting rights is approved but only after completion of a sentence of probation or post-release supervision. This is the law that stands today.
Sept. 4, 2020: A three-judge panel rules that people convicted of a felony who have been released from prison but who remain on probation solely because they owe fines, fees, or other debts can vote in North Carolina's coming elections.
Sources: Frank R. Baumgartner, Civil War Era NC, and the N.C. Department of Natural and Cultural Resources