Meaningful criminal justice reforms that improve public safety. Historic drug pricing reforms. Protections for defrauded students. Expanded access to contraception. We've rounded up the stories that maximized opportunity and minimized injustice in 2022.
Criminal Justice
The COVID-era spike in homicides and the resulting political pushback against criminal justice reform led Arnold Ventures to reflect on the relationship between community safety and justice reform. So, we worked with experts on six papers that analyzed what the evidence says about the relationship between community safety, the justice system, and reform. The major takeaway: There are real public safety benefits associated with the functions of the justice system. At the same time, some of the current practices remain inefficient, produce serious harms, and operate in ways that are counterproductive to community safety.

The ​"Hidden Costs of Pretrial Detention Revisited" report revealed the harms associated with pretrial detention, including an increased likelihood of re-offense and arrest. The study built on a 2013 analysis that offered similar findings. This time, however, researchers were armed with more data — looking at the cases of 1.5 million people booked into a jail in Kentucky between 2009 and 2018 — and more rigorous statistical analyses.
Related: ​'The Longer You Spend in Pretrial Detention, the Poorer Outcomes You Have.'
A new video explained the current landscape of gun violence in the United States, highlighting the three things we can do to save lives while preserving Second Amendment rights: adequately fund gun violence research; follow the existing evidence on ways to reduce gun deaths; and support new approaches to fighting gun violence.

Pundits and partisans went over-the-top with fear-mongering — and misleading — coverage of public safety in the past year. Stories that needlessly sensationalized violence or presented false explanations about the causes of inflicted real-world harm on individuals and warped public opinion in ways that set back policy changes shown to improve public safety. In response, researchers and advocates pointed to solutions for evidence-based reporting on criminal justice issues.
Related: Journalists: Look Beyond Law Enforcement, Lead with Empathy

Until this year, New Jersey was one of only three states without a process to decertify law enforcement officers who violate public trust or break the law. In a two-part story, Arnold Ventures covered how an unlikely coalition of racial justice activists and police unions worked together to fix this and pass a police accountability law in New Jersey.
Related: Part 2: Building an Infrastructure Toward Police Accountability

While criminal justice reform became a target for partisan politicians, Oklahoma Gov. Kevin Stitt stood out as a red state model for moving the ball forward. During his first term, Stitt and a Republican-led coalition successfully shrunk the state's prison population, improved reintegration, and expanded diversion courts.
Related: ​'I Want To Be Top 10 in Everything That We Do': Q&A With Oklahoma Gov. Kevin Stitt
Community supervision agencies almost always require some form of drug testing. However, the limited research we do have on testing in supervision suggests that it does more to contribute to technical violations of supervision and to revocations — widening the net of the carceral system rather than supporting recovery, rehabilitation, or community safety.
Health Care

President Biden signed into law historic drug pricing reforms in 2022. Now millions are poised to see relief from skyrocketing drug prices. These drug pricing reforms are critical: Nearly 1 in 3 Americans say it is difficult to afford their medicines, forcing people to ration. And 76% of Americans nationwide support allowing Medicare to negotiate prescription drug prices.

Related: Statement from Laura and John Arnold on Landmark Law to Lower Drug Prices; How Drug Pricing Negotiations Finally Became Law
Prior to the passage of the No Surprises Act, millions of Americans received expensive surprise bills, many of which ran upwards of thousands of dollars. These unexpected bills — typically resulting from an out-of-network provider that the patient was not able to choose — could not only financially devastate individual patients and families, but also resulted in higher premiums for everyone. The No Surprises Act is a big win for patients, guarding them against surprise medical bills. But legal challenges by health providers threaten to undermine the protections.

"Hospital systems too often use their market power to engage in anticompetitive behavior, which acts as a tax on patients, companies and taxpayers," AV Co-Founder and Co-Chair John Arnold tweeted in response to a piece in The Wall Street Journal highlighting AV's long-running battle against hospital consolidation. ​"With government slow to respond [and] without the resources to investigate, Arnold Ventures helps fight to reduce costs."
The recent rapid growth of Medicare Advantage means now nearly 50% of all Medicare beneficiaries are in the program. The sheer numbers served, paired with the speed of the increase, raise important questions about both quality of care and the price tag for beneficiaries and taxpayers.

The drug aducanumab (Brand name: Aduhelm), became a flashpoint this year in the national debate about the tradeoffs between low-quality evidence and high prices. Its approval highlighted the shortcomings of a regulatory system under pressure to fast-track new treatments.
Related: The FDA's Balancing Act
President Biden noted in his first State of the Union address on March 1:​"As Wall Street firms take over more nursing homes, quality in those homes has gone down and costs have gone up. That ends on my watch." Prior to the president's address, the White House announced a strategy to begin cracking down on behaviors that are contributing to poor outcomes in these facilities. Researchers and advocates note that these conditions have long existed, and yet more evidence is needed to drive policy changes that would protect nursing home residents from private equity business practices that put the bottom line ahead of the health and safety of people who need long-term care in nursing facilities.

Related: Researcher Puts Nursing Home Ownership Under the Microscope

Higher Education

AV sat down with Kevin Kinser, department head of education policy studies, and John Cheslock, professor of education policy studies, both at Penn State College of Education, to talk about online program management companies (OPMs). These unusual middlemen exist in a gray area in higher education: They provide an online platform for coursework, but often, they offer much more — recruiting and admitting students, marketing and advertising online programs, and advising faculty and students on technology use and course and curriculum design. Through a policy loophole, OPMs are also often paid per enrolled student, which can incentivize aggressive recruitment over other aspects of converting courses from in-person to online. These two scholars discuss the gray area where OPMs operate and how they intersect with policy.
College sports are a uniquely American pastime. Our national images of college often revolve around a Saturday tailgate at a football game or the excitement of March Madness. Athletics can build community, connect alumni with the university, and be a vehicle for school pride. But college athletics is also a big business with an ugly underside. More and more spending on coaches' salaries and facilities is juxtaposed with stories about student-athletes who can't afford to eat. Even as athletics spending balloons, universities are cutting funding in other, critical areas. The comparisons between the treatment of men's and women's teams are alarming. There are systemic racial inequities in who creates value and on whom that revenue is spent. And colleges ask athletes to sacrifice their physical, and often mental, health, often at the expense of their education. This set of papers addresses the myriad issues coming to a head in college athletics.

Lambda Coding Camp offered students a tremendous deal: Learn to code and pay for tuition after you get a job. The income-sharing agreement wasn't as simple as it appeared. In time, students ensnared by Lambda coding camp's income-share agreements looked for a way out, and Student Defense picked up the case. ​"We need policymakers to stop the scams and ensure real quality and values for students who are just trying to give themselves a chance," said Kelly McManus, vice president of higher education at Arnold Ventures.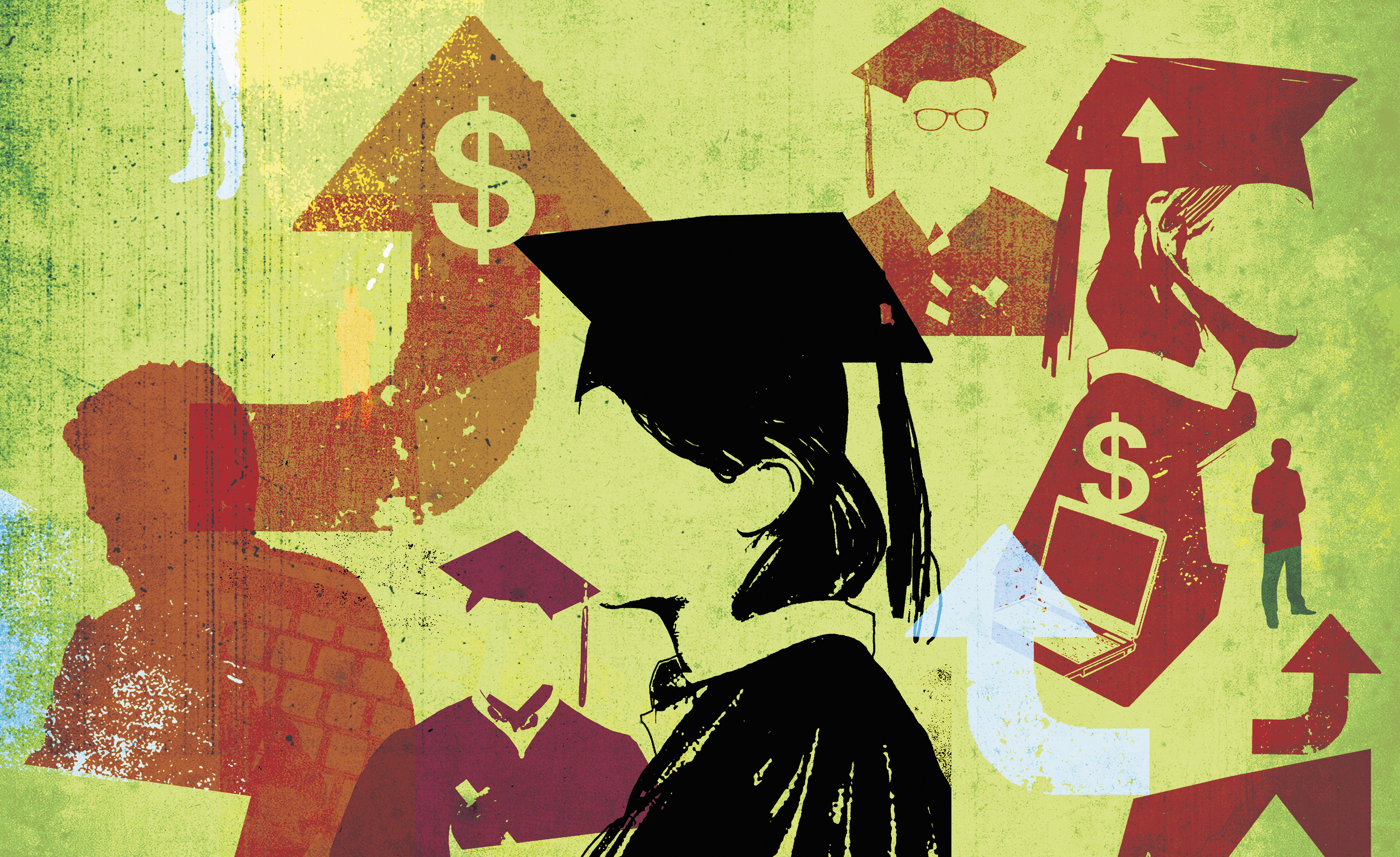 In an op-ed published at CNBC, Arnold Ventures Co-Founder and Co-Chair Laura Arnold reminds us that student debt forgiveness won't change the fundamental problems in higher education today, but policy will. Arnold proposes several practical paths forward, including greater transparency, accountability, and emphasis on completion. Predatory schools need to be stopped before their hands get on federal student aid, and students should get the support they need to finish their degrees. The complexity of these issues is real but not insurmountable. ​"There's no quick fix that will solve the underlying problem. But there is a solution available. Policymakers just need the courage and determination to seek it."
Evidence-Based Policy
When Weldon met Xavier through the national mentoring program Big Brothers Big Sisters, neither could have predicted the profound effects each would have on each other. That is, until the program was evaluated in a randomized controlled trial by researchers David DuBois and Carla Herrera of the University of Illinois, Chicago. A new report, presenting interim findings from research conducted over four years on over 1,300 youth, provides clear evidence of that impact, specifically on delinquency and crime prevention. Learn about the story of this mentoring pair as well as the interim report results.
Democracy
Two recent elections illustrate the differences between closed and open primaries, which change more than who votes and wins — they change how winners govern. In Michigan, South Carolina, and Wyoming, voters chose their candidates in traditional partisan primaries. Republican Reps. Peter Meijer, Tom Rice, and Liz Cheney, who all followed their conscience and voted to impeach former President Donald Trump, lost their races to Trump-backed challengers. A different outcome developed in Washington and California, which employ open​"top two" primaries, and in Alaska, which employs an open​"top four" primary. These states allow all voters, regardless of party, to determine which candidates advance from the primary to the general election. The result of open primaries? Diversity of candidates for voters who are able to choose candidates that most closely reflect them.

Contraceptive Choice and Access

In 24 states including Washington, D.C., pharmacist-prescribed birth control expands access to hormonal contraception. This article profiles the work of pharmacists in New Mexico: how they do it and how it helps their communities. ​"New Mexico is a pretty progressive state as far as the pharmacist prescriptive authority, and so we want to be leaning into as much as we can do," said Joaquin Acosta, a pharmacist in Las Cruces.​"I think if people can start associating us as health care providers like that, eventually we might be able to help some people out."
One of the main paths to contraceptive access in the United States is via the Affordable Care Act's coverage of contraception and contraceptive care. The ACA requires that most health insurance plans cover the full range of FDA-approved contraception methods and care without cost-sharing, or having to share the cost with the health plan through, for example, co-pays or deductibles. As of 2021, 62.1 million women have insurance coverage that includes contraception without cost-sharing. However, insurance companies and pharmacy benefit managers are violating this law by not covering some types of FDA-approved contraception or by creating barriers to keep people from accessing care or their contraception of choice without cost. Lawmakers and advocates like the National Women's Law Center (NWLC) are calling on the government to act on these violations.
Journalism
As national economic pressures and faltering business models continued to wreak havoc on for-profit news, a bright spot has emerged in an otherwise grim journalism landscape: Nonprofit news.
While the nation's largest commercial chains announced round after round of layoffs this year, nonprofit news continued its upward trajectory, replanting journalists in areas where legacy media is shrinking or has disappeared altogether. There are now more than 400 news organizations that count themselves as members of the Institute for Nonprofit News, the exclusive organization representing the industry. That's up from just 27 at INN's inception in 2009, and INN projects that it will add 200 more outlets by 2025, positioning nonprofit news to rival Gannett, the nation's largest for-profit news chain, which slashed 600 jobs this year.
Nonprofit news not only proved this year to be a viable and successful business model, it also demonstrated an ability to produce hard-hitting, ambitious, accountability reporting that is driving change at scale. With a focus on local civic reporting, independent investigative reporting, and beat reporting, these outlets — big and small, urban and rural — are holding the powerful to account and publishing work that results in legislative and policy change from the local to the federal level.