Arnold Ventures
Charlie, you're joining Arnold Ventures as executive vice president of infrastructure. But what exactly does that mean – infrastructure?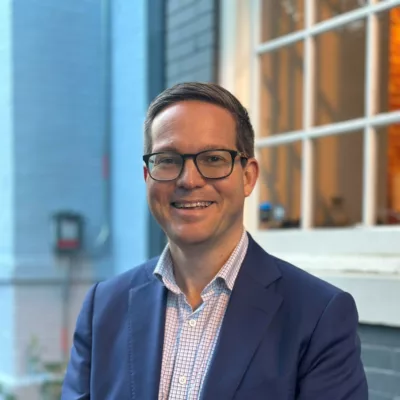 Charlie Anderson
Infrastructure can mean anything from roads and bridges, which is where people often go first, to public transit, clean energy, power transmission, and housing. The mission here is figuring out how we build these things in America faster, at lower cost, and better. And by better, I mean with better environmental outcomes, better community outcomes, and overall in ways that people will feel are making a positive impact in their own communities and for society as a whole.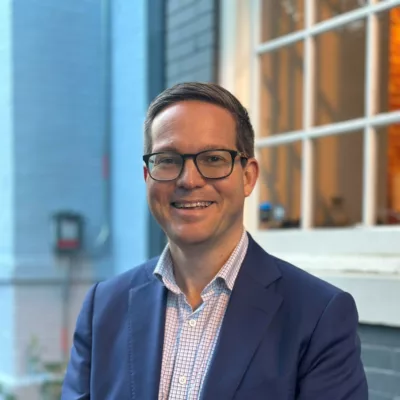 Charlie Anderson
Obviously, I'm not going to take out a hammer and start to build a bridge. The goal is to help facilitate those three things — building faster, at lower cost, and better — through expanding the evidence base about what works and doesn't, understanding how we can proliferate solutions that do work to a broader set of places or to stop doing things that don't work. That evidence then leads to policy development. And then we turn those policy ideas into reality through advocacy.
Right now, there are potentially trillions of dollars in federal funds — and private investments driven by those funds — about to be deployed for infrastructure. Using our tools of research, policymaking and advocacy, we hope to leverage those dollars many times over by doing things better. For example, if you get through an environmental review process in one year instead of two years, you can get a lot more projects through the pipeline. So, if you can accelerate those processes and do them the right way, you can get many times greater benefit from each dollar than if you were leaving supply constraints in place or letting capacity idle because we're not moving as fast or as far as we could otherwise.
Arnold Ventures
You mentioned trillions of dollars in federal funds and private investments. There's the Inflation Reduction Act, the CHIPS and Science Act, the Bipartisan Infrastructure Act all creating a pipeline of funds for infrastructure. But there's also this growing awareness of barriers to infrastructure development that maybe people weren't thinking about just a few years ago.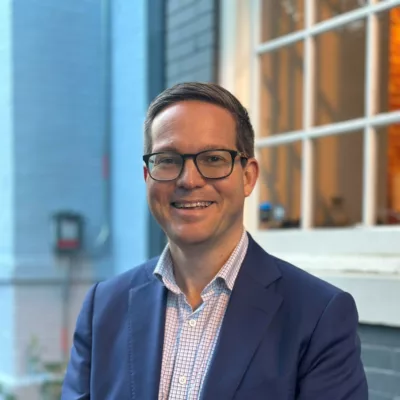 Charlie Anderson
I've been in public service for about 15 years, and I remember way back to the 2009 American Recovery and Reinvestment Act when we learned that there weren't as many shovel-ready projects as you would have like to have seen. Part of that was because for something to get shovel ready, it has to go through many, many processes. So, I think that helped build a little bit of the recognition that there isn't a turnkey on these projects, and the process to get from idea to construction to completion was cumbersome and lengthy.
But I will say that, historically, there have been competing views about whether using these long-running processes to slow things down is virtuous or not. However, right now, a broader consensus realizes that getting things done faster and at lower cost is an overriding imperative to address challenges like the housing affordability crisis and climate change. You have this cross-partisan, trans-partisan appeal where everyone's on the same page. I think that's a pretty unique thing. Obviously, we're in a polarized moment as a country, but I'm pretty hopeful that a lot of people who think about the world in very different ways can think about infrastructure in very similar ways. So that's a pretty big opportunity for sustained progress.
Arnold Ventures
What do you see driving this growing political coalition around the current infrastructure moment? Did everyone just realize the need for change or is there something else?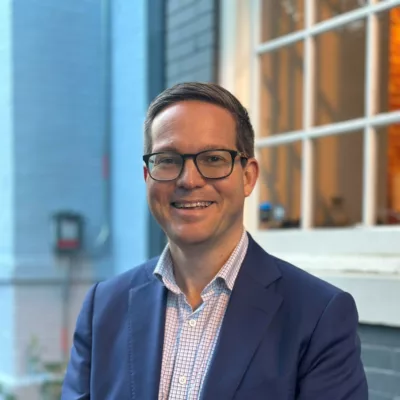 Charlie Anderson
I think this is one of those things where an ordinary human living in a community doesn't really care about the politics. They just care that the roads are going to be fixed. They care that they can get to their job in a timely, reliable manner. They care that the air is clean, and their kids aren't breathing pollution. They care that their home is affordable. These are the basic, kitchen-table outcomes that are the direct result of doing infrastructure well.
But also people across ideologies, incomes, and geographies recognize the global competitiveness aspect.
You've seen this in the semiconductor space with respect to China. But it's also true for our ability to move goods from one place to another and move energy from one place to another. To have a reliable energy grid we need to diversify our energy resources so that we're not reliant on just one or two fuels that could be subject to disruptions when countries that don't share our interests start playing games on a global level. There's a compelling cross-partisan, society-wide understanding that we've got to do better here.
And even for policies that have relied on one party to carry them over the finish line, like with the Inflation Reduction Act, a lot of the projects are overwhelmingly going to benefit traditionally more conservative states. That's really going to hit once people see the shovels in the ground, the jobs being created, the benefits for their communities, their improved grid reliability, the consistently lower energy costs, the payments going to agricultural producers from wind or solar energy deployment on their land. Those are the kinds of things that are pretty nonpartisan. It is just about living a better life.
Arnold Ventures
So much of this conversation has been about laws written in Washington D.C., but clearly a lot of this work is going to happen beyond the Beltway. What does that look like?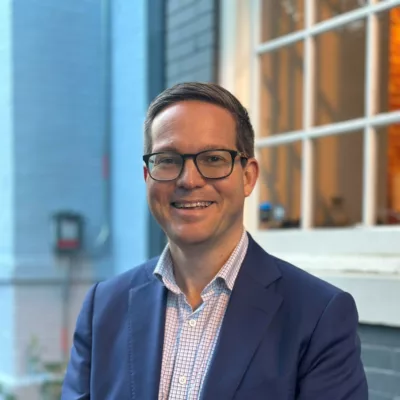 Charlie Anderson
Well, for many decades we've been cutting what federal-level nerds would call non-defense discretionary spending. And for a federal agency, the place that hits hardest is in federal agencies' capacity to execute basic, cross-cutting functions. You just don't hire more people to do human resources, conduct environmental reviews, or issue permits even as you have increased demands on those cross-cutting functions. That might mean lacking enough realty specialists based in a remote part of the Bureau of Land Management or the U.S. Forest Service. Now we have an explosion of projects coming on federal lands, and you're burdening the same people who work on a broadband project with, say, onshore renewable energy, and oil and gas, and a million different types of other projects that can come their way. If you don't increase that capacity, increase those skills, you're going to see a slowdown across the board.
So, all of that is to say that I think partnerships — not even legislative or executive action – but just having some entities think about the needed skill sets and execute on a strategy to build a stronger pipeline into governments at all levels for those skill sets can help clear that backlog or avoid it altogether. And given the need for a lot of renewable energy to be built in rural parts of America, that will benefit a lot of places far from DC.
Where we focus our efforts geographically and at what level of government will depend on where the evidence leads us, both on what works and where there's already some potential momentum. It is hard to start from nothing, but if there's already a little bit of movement you can put wind in the sails for ongoing efforts. For example, some really exciting affordable housing efforts are happening at the state level, and there's a huge amount of bipartisan momentum toward revisiting how we do land use policy. The affordability crisis touches almost every part of the country, and in different ways. The solutions may differ by state or community, but there's a unified focus that the high cost and low supply of housing are unsustainable almost everywhere and for people across income levels. Those at fixed incomes or low incomes who are at risk of eviction, so-called workforce housing for teachers, firefighters, nurses, and even for people well into the middle-class who often can't afford to live near where they work in a space large enough to raise a family.
Arnold Ventures
You've brought up the idea of following the evidence, but what does AV-style research look like in the field of infrastructure? What's the missing data and evidence that we're trying to uncover and apply to policymaking?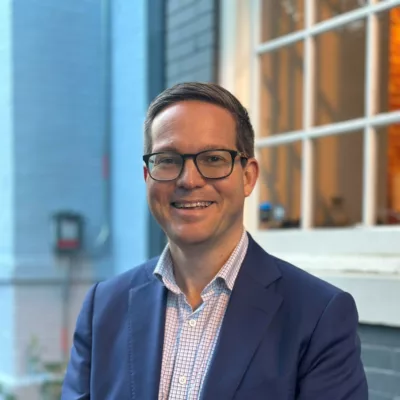 Charlie Anderson
I guess I should start with optimism. There are a lot of really smart people who have been engaged in this space, and it has ramped up in recent years. There's a lot of enthusiasm and good work being done to suss out basic questions: What works and what are good models? But we have a long way to go in just a general understanding of a systemized approach to measuring key issues. For example: How many infrastructure projects are there in the pipeline by level of environmental review, by project type, and by region or state? And I don't mean just the environmental review or permitting pipeline, but in the project delivery pipeline as a whole. You need that information to study what the bottlenecks are along that whole timeline, from when a project is conceived all the way to when they make a decision to pursue it, to actually beginning and completing construction. You need that to figure out how slow or fast things are actually going. We also need to compare similarly-situated projects between states or countries to determine where things go well, and why they're going well in particular, and how we can support more of those types of processes or regulatory frameworks. To me, Arnold Ventures is uniquely positioned to invest in figuring out what's going on and make it actionable so we can do better.
Arnold Ventures
So how does someone end up in this field? You don't have many kids at fifth grade career day saying, ​"When I grow up, I want to tear down regulatory barriers to infrastructure development."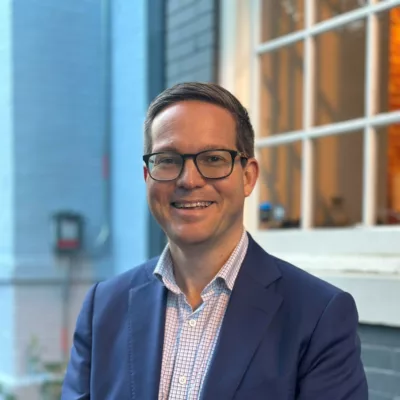 Charlie Anderson
When I went to college, like many people, I didn't really know what I wanted to do with my life. The one thing I knew was that I wanted to do something that made other peoples' lives better. If you're making somebody's life better, that's a pretty good feeling for yourself and also it's a pretty good justification for you being in the world.
So, I was elected to student Congress and was a student government nerd. Around that time, some folks came forward with a proposal for renewable energy projects on our campus at University of North Carolina at Chapel Hill. This was like 2002 or 2003. We put it on the student government ballot and we got students to vote for a fee increase of $4 per student per semester. That's $185,000 per year of students putting money into a pot to support renewable energy on the campus. So, we won a state grant to supplement that and put a solar thermal unit on a big dorm, and it was this cool thing – a physical manifestation of positive change that you could look at every day and say: ​"We did that."
That was important in part because we were reducing emissions elsewhere in a nearby community that probably didn't have much of a say about what was built in their community, making their lives better and also contributing what we could to reducing the threats from climate change and hazardous air pollution.
I actually wrote my senior thesis on a law that was passed to help clean smokestacks from coal-fired power plants and then went to Washington D.C. for a year as an environmental consultant to the Environmental Protection Agency. So, I got to see things from that perspective. Then I went on to graduate school for public policy and I knew I wanted to get into the field and figure out how you make those smaller changes happen at scale. How do you empower people in every community to do something like we did? How do you give them a little bit of wind in their sails to make change for the better?
That's where infrastructure comes in.
Fundamentally this is about building things faster, better, and at lower cost in the country. It has day-to-day implications about things like driving on roads that don't have potholes or a bus that shows up on time to get people to work. But it also has profound implications about the United States remaining the preeminent superpower in the world, showing we can still govern ourselves, and rebuilding trust that government is delivering for the American people in ways that improve their day-to-day existence.
Arnold Ventures
Most of your career has been in the federal government. Now you're stepping out of that. What does that shift feel like? What are you going to miss out on, and what are you looking forward to?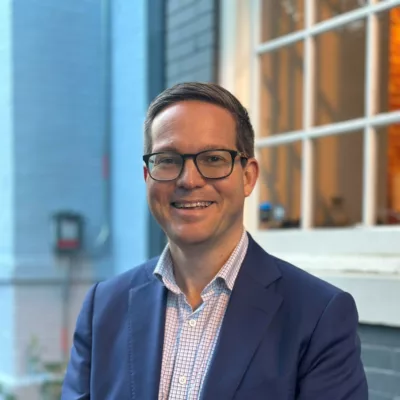 Charlie Anderson
I'll be honest, there are definitely parts of being in the federal government that I'm going to miss. There is no place where you can work at that scale. Everything you work on is going to impact at least hundreds of thousands – if not millions or even hundreds of millions – of people. From the work on economic policy in the wake of the 2008 financial crisis to the COVID response to the child tax credit, almost all of the stuff that I've worked on was at a profound scale with a huge impact.
On the other hand, if you don't get the complementary piece in place – if you don't have the ability for folks to access the resources that the federal or state government provides and make use of those resources in the most effective way possible – then you can't actually deliver on the promise of the policy that has been passed. A lot of value can be lost.
So while important legislation has been passed, and it was extremely difficult to get done, it may be even more difficult to realize the full promise of those bills. And I think there's a massive and important role for philanthropy to play in facilitating that.
Arnold Ventures
So I have to ask: Is working in the White House just like they make it seem on TV?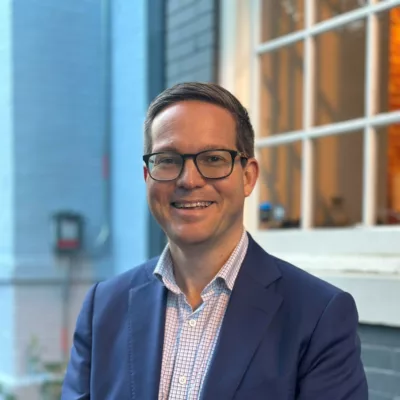 Charlie Anderson
I used to get asked a lot when House of Cards was a new show whether working in the White House was like House of Cards, and I started to wonder what people thought we were doing all day – that was a really dark show! It's definitely not like that and really not even like West Wing. It's much more of a grind with a ton of hard work that would be boring to watch, with many mostly thankless days leading to small windows of massive progress that are incredibly gratifying. No thorny problem gets tied up neatly in a bow after 30 minutes of tight repartee like in a West Wing episode, unfortunately.
I'd often report back to those who asked that the day-to-day experience of being in the White House or Senate was usually much more like Veep than West Wing, with a lot of well-intentioned and capable people grinding away finding ways for improbably silly things to happen to them. As one example, I remember a time when I was working with Senator Michael Bennet on what I'm sure sounds to most people like a scintillating topic – a bipartisan committee on budget and appropriations process reform. But I was truly excited about it, and we were developing a bit of a momentum on a bipartisan proposal with a House Republican member and his staff. I thought it would be a nice gesture for us to head over to the House side and meet them on their turf. I was told by our extremely capable front office that my boss had a meeting with an important agricultural constituency – might have been the Colorado potato growers – on the back end of that meeting and was under strict instructions to make sure he was on time. I gave him a few time checks toward the end of the meeting because the meeting was going well and he was clearly enjoying the back-and-forth. We got out just in time to hustle back over to the Senate side and be exactly on time – except because I was a little disoriented on the House side I confidently walked him in the exact wrong direction for a solid five-plus minutes. On what seemed like an exceedingly long walk back to meet the growers, which actually turned into a literal jog – knowing full well we would be ten minutes late and there was nothing we could do about it – I felt very Veep-like in my sheepishness. The senator was very gracious about it, but when you're a staffer you feel that guilt pretty acutely when you know you've let down the organization. My deepest apologies to the potato growers.
Arnold Ventures
What do you do when you're not working on infrastructure?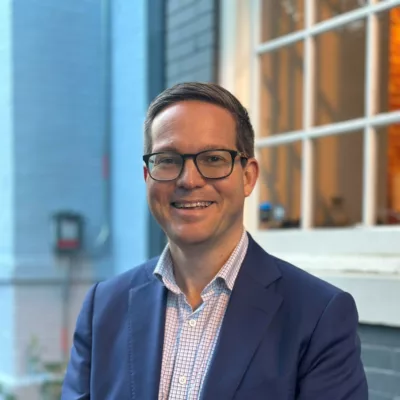 Arnold Ventures
This is all you do? All the time?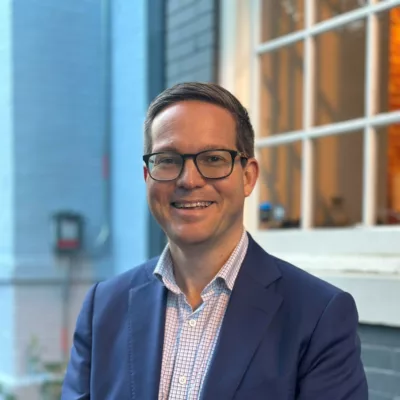 Charlie Anderson
Sadly, that initial answer in jest with respect to infrastructure was close to my reality during the early days of my work on the COVID response team. There wasn't much room for anything else.
But I would say that one thing I've tried to do, in addition to reading and listening to podcasts and that kind of thing, is that I've recently taken up trying to learn to play guitar. About six months into the pandemic, I went home for a while because I was working fully remote and picked up an acoustic guitar my folks had in a closet and started to try a bit. I didn't really have any knowledge or basis for what I was doing. And then my partner, who is an absolute saint and apparently a glutton for punishment, got me guitar lessons for my birthday a year-and-a-half ago, and I started to give it a shot. I've been doing lessons almost weekly since. While I will say I'm not anywhere near capable, I've definitely learned a lot and I'm enjoying the ride.
Arnold Ventures
So who is your favorite musician?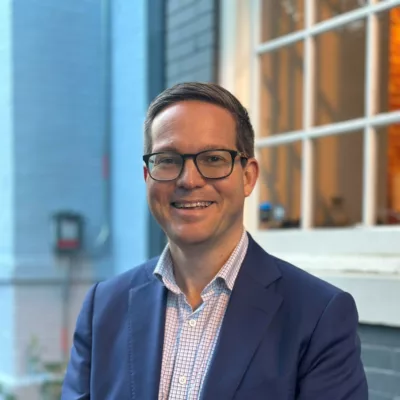 Charlie Anderson
I'm not good with favorites, and my tastes are pretty broad. I would say I grew up listening to a lot of classic rock like Jimi Hendrix, Allman Brothers, you know, The Beatles obviously, Nina Simone. In the ​'90s it was a lot of Wilco, Elliott Smith, and more recently am a huge fan of Lucy Dacus. I've listened to a lot of Nickel Creek recently – they have a new album out. Chris Thile who plays mandolin for them also leads the Punch Brothers, who have some pretty epic Tiny Desk concert clips from NPR and put on a great live show I caught in my parents' hometown of Charleston, South Carolina. And then I listen to some hip hop from the ​'90s and the early 2000s. Basically, these days, any and all singer-songwriter stuff. Waxahatchee, Plains, Courtney Barnett, War on Drugs. S.G. Goodman is really excellent. Have been listening to a lot of jazz too. So, I'm kind of all over the place, but I love a pretty broad range of music and have made time to catch a lot of shows in recent years. So, I'm looking forward to spending time in the Texas office and maybe hearing some good live music. I welcome any recommendations for the best nearby live music venues.
Arnold Ventures
And you mentioned listening to podcasts and reading, too. What are your go-tos?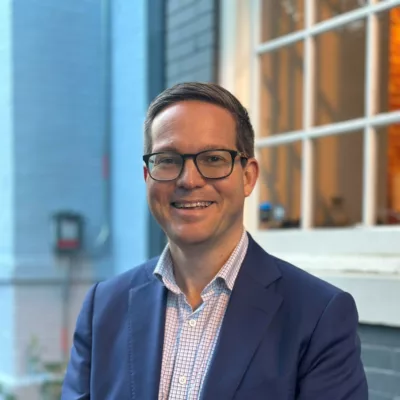 Charlie Anderson
Ezra Klein has spent a lot of time on infrastructure issues and generally has done some really enlightening conversations on his podcast. I think Jerusalem Demsas is another interesting writer on these issues, and Matt Yglesias. And there's the expert community, which I enjoy. Jenny Schuetz is always offering good insights on housing. The Volts podcast by David Roberts and the Columbia Energy Exchange are some other good ones on fairly weedsy energy-related topics, as are the associated written products.